Gear Review: Car-camping appliances for the 21st century
Gear Review: Car-camping appliances for the 21st century
(First published in Seattle Times NW Weekend January 20, 2009)
Coleman's new LED Quad lantern and Brunton's Profile Duo range-grill combo add modern touches to camping gear.
The days of finicky pressurized stoves and smelly old kerosene lanterns hanging in canvas tents are gone. Car-campers today have new appliances for clean, carefree camp cooking and for pushing back the dark of night. We've looked at many new stoves and lanterns while exploring Washington from Kalaloch to Colville. After multiple days and nights spent in the wildest parts of the state, we've identified two of the best new pieces of camp gear we've seen in a long time. Let's start with light. Lanterns still provide the most efficient source of light, and the best camp lantern today, like those of years gone by, comes from Coleman. But that's where the similarities end. The
Coleman LED Quad Lantern
uses LEDs and batteries, not liquid fuels. The lantern throws out bright-white light that illuminates a wide camp, or fills a family tent without smoke or odors. The lantern uses 8 D-cell batteries but draws from them slowly, so you'll get as much as 80 hours of light from that pack of batteries.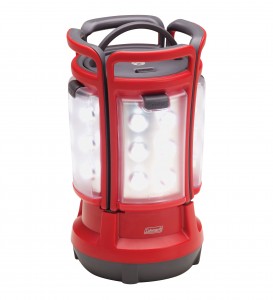 That's impressive enough, but the real "wow" feature of the LED Quad is its modular design. When nature calls and one camper needs to wander off for some alone time, he or she can simply pop off one or more of the four LED panels to use as a portable light source. The remaining panels continue to work on the main base. The individual panels have built-in rechargeable batteries that draw from those 8 D-cells when connected to the base. Each panel will stay illuminated for up to 50 hours on its own, while throwing light a full 25 feet out in front of you.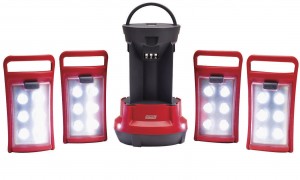 For six weeks we used the lantern, venturing out 15 or more nights to camp, using the original eight batteries for every outing, and the lantern was still going strong. The LED Quad Lantern sells for $69.99. See
www.coleman.com
for more information. When dinnertime rolled round, we found the new
Brunton Profile Duo range-grill combo
to be the best way to crank out a hot meal. The two-burner cooker splits the difference between a propane grill and stove. One side features a 12,000 BTU cooktop burner, and the other side is a 10,000 BTU grill. With that setup, we could grill up a couple steaks while sautéing mushrooms on the other side. By laying a large flat griddle on the grill side, we could turn out flapjacks while frying eggs on the other burner.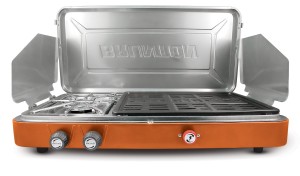 The flexible connector between the propane bottle and the stove made this an easier-to-use stove than other models that feature a rigid gas tube. The electronic ignitions and easy-to-clean stainless-steel design complete the features on this powerful cooker. List price: $137.95. See
www.brunton.com
.