(First published in Seattle Times NW Weekend March 18, 2010)
Spring in the Northwest can be great for outdoor adventures. Or it can be miserable — cold, wet and windy. In the event of the latter, you'll want some bombproof bags to carry your gear to warmer, drier climes. Enter Fishpond.
Though designed by and for fly fishermen, Fishpond's rolling duffel bags are ideal baggage for all outdoor enthusiasts. After my test team and I field tested a wide array of gear duffels for a national magazine, one bag stood out: the Fishpond Rodeo 31 Rolling Duffel. This cargo-carrier swallows all the gear you'll need for a weeks-long backpacking adventure or a month of d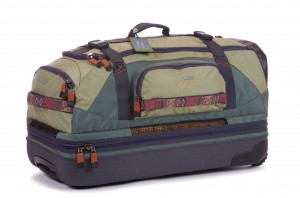 ay adventures overseas. We toted it to the French Alps, the Escalante region of southern Utah, and out across the Columbia highlands into the rural deserts of Eastern Washington. At 31-inches long, it is sized perfectly for checked baggage — big enough for all your essentials, without going over the size limits for checked luggage.
Currently, I'm hauling it around North Carolina, with a mixed load of paper for an EPA communications conference, and outdoor  gear (used in the later afternoons/evenings so I can stay sane after spending all morning and early afternoon in government policy discussions).
The Rodeo features a spacious main compartment to hold clothes, gear and essentials. That big duffel sits atop a separate bottom compartment, accessed by a heavy-duty zipper around three sides of the bag. That bottom compartment is deep enough to hold ski boots, wet fishing waders and/or muddy hiking boots. Mesh sidewalls line the lower compartment so your wet gear can breathe and dry, rather than mildew and stink. During a trip to Escalante, I stored my full-size backpack, all my clothing and gear into the top, with my boots and tent in the lower. On the way home, the wet and muddy boots and tent traveled all the way home without leaching any moisture into my dry gear in the section above.
Top to bottom, the Rodeo features stout zippers with enormous teeth to ensure there is never a snag or busted tooth. A heavy 100-millimeter wheel assembly proved plenty tough enough for any obstacles we threw at it, from cobblestones in Chamonix to gritty sands in Utah. Stout handles at each end allow you to grab, drag and carry the bag a variety of ways.
The stylish and seemingly indestructible Rodeo 31 Rolling Duffel sells for $349 — not an insignificant sum, but this is a bag capable of serving you through a lifetime of adventures. See www.fishpondusa.com.