Petzl pushes the evolution of light
Petzl pushes the evolution of light
First there were flaming torches, then oil lanterns and candles. Incandescent flashlights came next and then LED lights. The new breakthrough in outdoor lighting comes from 
Petzl
, the leader in headlamp technology.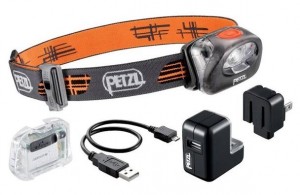 Petzl's popular Tikka 2 series gets a refresh this year thanks to a new rechargeable — and programmable — battery pack. The 
Tikka XP2
, with CORE battery, brings backcountry lighting into the 21st century. The star of the new system is the CORE battery pack. Users charge this lithium ion polymer battery via a USB port on a computer, or through a wall outlet using the available adapters. The USB charging cable doubles as a data cable when plugged into your computer, though, allowing you to utilize the "OS by Petzl" software (available in Mac and Windows versions). With the battery pack/headlamp plugged into the computer, the Petzl software allows users to program their CORE battery to match their needs. For instance, hikers who need only moderate-intensity light to guide them up well-maintained trails can program the batteries to allow only 75-percent output, thus greatly extending the life of the battery. Climbers, though, can force the battery to give 100-percent output for as long as possible. This gives a consistent maximum light intensity, but for a much shorter period of time. Or you can set the battery to slowly lower its output as the battery charge drops, much like a normal alkaline battery. The software presents the settings in chart format, illustrating your output levels and life of the charge at that setting. While snowshoeing around Stevens Pass, I programmed the CORE battery to a steady (regulated) 70-percent output since a nearly full moon provided substantial light on the snow. At that setting, the battery threw a steady beam for nearly 12 hours — far longer than I needed for my night hike. Petzl packages the CORE battery with its Tikka XP2 headlamp for those wanting the best of the new technology. In this headlamp, once the battery is charged and programmed, you can then tweak the program in the headlamp using three different lighting modes (maximum, economic and strobe) and two beam intensities (wide angle and focused beam). Petzl also offers the CORE battery as a retrofit option for users who already have a Petzl Tikka Series 2 headlamp. This option gives you all the features of the programmable battery with whatever options exist in your current headlamp. The Tikka XP2 with CORE battery sells for $110 and includes the headlamp, battery pack, USB charging cable and wall-charging unit. The CORE battery upgrade kit sells for $40 and includes the CORE battery pack and USB cable only. For more information see 
www.petzl.com
.