Unique, quirky outdoor gear from creative designers
Unique, quirky outdoor gear from creative designers
Groundbreaking gear comes only when managers set idea-people free from limitations on their creativity. Wild ideas abound in the outdoor products industry, and once in a while, a seemingly crazy idea becomes a winning product. Here are a couple of our current favorite unusual designs:
The backcountry snuggy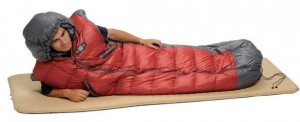 Take a warm, comfortable, down sleeping bag, knock out some holes for arms and legs, and then fine-tune. Make the traditional sleeping bag hood fit more like a parka hood. Adjust the leg openings so the entire bottom of the bag zips open, and configure that lower hem so it can be cinched up around your waist if you want. The result: the 
Dreamwalker
, a sleeping bag that doubles as a parka, from 
Exped
. As the temperature drops, slip into your Dreamwalker parka-style to stay warm as you set up camp. While enjoying dinner, keep your arms out but drop the hem around your ankles for greater warmth while still allowing moderate mobility. Come bedtime, zip the leggings up to create the lower half of a sleeping bag, while still having your arms free to read or prepare for sleep. Before drifting off, close off the arms to seal in the warmth and snuggle down into your mummy-style sleeping bag.
Available in 750-fill down versions rated to 20- and 35-degrees Fahrenheit, and in a synthetic-fill version rated to 40 degrees, the regular-length Dreamwalker 650 (rated to 20 degrees) weighs 2 pounds, 7 ounces and sells for $359. More information at 
www.exped.com
.
A woodstove in your backpack
OK, this isn't a woodstove like the one you use to heat your home. It's a small cookstove, but rather than burning fossil fuels (compressed gas or liquid white gas), the 
Sierra Titanium Stove
 burns whatever wood scraps you find around camp. The stove's titanium housing is basically a double-walled firebox with pot supports on top. Small clips on the bottom hold a tiny battery-powered fan. Flick on the two-speed fan and air is fed into the firebox. When woody debris is ignited in the firebox, that airflow creates a hot, clean fire. The double walls of the firebox funnel the heat from the fire up onto the bottom of your cook pot sitting atop the stove.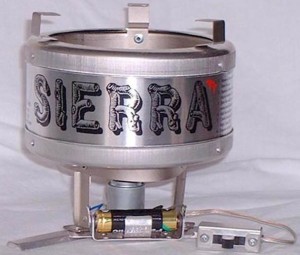 It's simple yet incredibly efficient. With even slightly damp scraps of cedar and Doug fir, as found in the Cascades, we consistently boiled a liter of water in about three minutes. During a rainy backpacking trip to Spectacle Lake near Cle Elum, we burned hunks of dry pine cones, bark and small limbs. We even succeeded in roasting a small camp pizza — not exactly a brick-oven pie, but dang good for camp fare. The small fan runs for hours on one AA battery. The Sierra Titanium, a lighter version of the original 17-ounce Sierra Stove, weighs less than 10 ounces (remember, too: you won't have to carry any fuel) and sells for $129. More info: 
www.zzstove.com
.