REVIEW: Clean water in the outdoors with UV pen, or just gravity
REVIEW: Clean water in the outdoors with UV pen, or just gravity
Lose just 2 percent of your body's water mass and you suffer the effects of dehydration. Lose 15 percent and you die. Water gives us life. Unfortunately in the backcountry, that life-giving water carries some nasty passengers that, once ingested by you, may make you want to die! Whether backpacking or traveling in areas without safe water systems, getting rid of waterborne nasties requires treatment. You can physically filter the bad stuff out, or kill them somehow. Keep in mind, though, that filters can't strain out viruses — they are too small. If you want to get rid of all potential problems, you have to purify.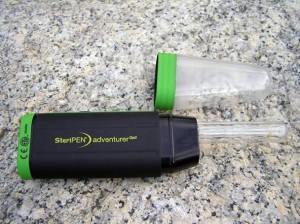 Traditionally, purifying backcountry water meant boiling or chemically treating. Then a light went off over someone's head and the 
SteriPEN
 was born. This portable ultraviolet (UV) light wand borrows from residential and commercial water-treatment systems. Exposure to UV quickly kills cysts, bacteria and viruses suspended in water. One editor noted, "It's small, light and the one-button operation is idiot-proof." The 
AdventurerOpti
 unit purifies a liter of water in 90 seconds. A water sensor ensures you have the wand adequately immersed for the full treatment time — if not, the UV light shuts off and you start again. The SteriPEN only purifies rather than filters so you won't get rid of grit and suspended solids in your treated water. Selling for $89.95, the SteriPEN AdventurerOpti purifier weighs a mere 3.6 ounces with batteries. More info: 
www.steripen.com
. If you prefer physical filtration over UV treatment, you should consider the 
GravityWorks
 system from
Platypus
. Rather than using a pump, the Platypus system lets nature take its course. After all, why pump, when gravity pulls? A hose with a ceramic filter in the middle links a pair of Platypus reservoirs. Using a hollow fiber filter — basically a cluster of tiny, porous tubes — this system cleans water quickly. Scoop water into the zipper-locked "dirty" bladder, hang it on a tree or rock, and lay the "clean" reservoir below. Use the quick-release connectors to attach the hose. Using this system, we kept six hikers hydrated in the Clearwater country of Idaho's panhandle for a week. We could get two liters of clean water in less than 90 seconds. Only downside was the lack of an adapter to attach to other bottles or reservoirs. The $109.95 price gets the complete system, which weighs 10.75 ounces. See 
www.cascadedesigns.com
.