Trail dogs will dig this hiking gear
Trail dogs will dig this hiking gear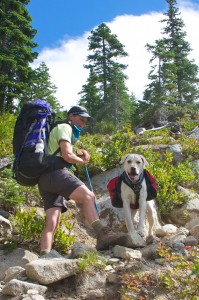 Hiking dogs tend to have resilient feet, but those pads of theirs, though tough, are susceptible to cuts, bruises and abrasions. So hikers venturing into particularly rugged terrain — or abrasive surfaces (such as crusty snow and ice) — might want to give their canine companions some protection for their paws.
Ruffwear's
 newest Bark'n Boots model, the 
Grip Trex
, sets a new standard in doggy footwear. Sophie, our 18-month-old yellow Lab, showed great enthusiasm in thoroughly testing the boots. Though it took a few days of slow introduction to make sure she was comfortable wearing them, she soon learned that they did not impair her athleticism a bit. So she wore them while running the rimrock ledges of Saddle Mountain near Vantage and while powering up the snowshoe trails around Blewett Pass.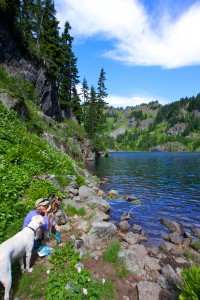 Utilizing Vibram outsoles sporting flexible lugs of sticky rubber, the Grip Trex bootees keep your pooch sure-footed on rock, mud and ice. Built on a three-dimensional molded last just like your hiking boots, the Grip Trex fits snugly around the foot without constricting its natural movement. A tough, breathable nylon upper prevents heat retention around the dog's foot. The boot's upper extends up the leg just a bit — about to the dewclaw on our primary tester — to ensure the boot stays on and trail grit stays out. An adjustable closure strap around the slightly padded cuff allows a snug, custom fit. The Grip Trex sells for $64.95 for a set of four and is available in six sizes. Detailed instructions on measuring your dog's feet for proper sizing can be found on the Ruffwear website. With your dog's feet taken care of, you should also plan to keep the pooch fed and watered on the trail and there's no reason your trail dog can't carry his or her own essentials. Ruffwear's 
Singletrak Pack
provides just enough capacity for all the food and water the pooch will need for a day hike. The sleek pack is lightweight and lined with mesh to prevent heat buildup on your best friend. The dual pockets each come equipped with half-liter Platypus soft water bottles. With five points of adjustment, and three different sizes available, the pack can be made to fit nearly any hound. When traveling rough trails where you might need to give your canine a hand up a rock or over a log, the Singletrak sports an integrated handle between the pannier pockets, allowing you to lift your pup safely and comfortably.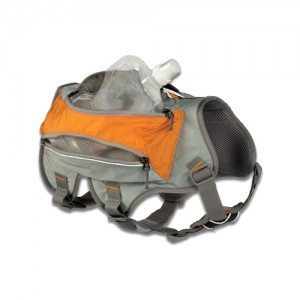 The Singletrak sells for $89.95. For more information: 
www.ruffwear.com
.