Adventure travel (and kicking around) needs the right shoes
Adventure travel (and kicking around) needs the right shoes
Whether adventure traveling or just kicking around town, your feet need good support while your ego demands your footwear looks good. Outdoor footwear makers often walk that fine line between function and fashion. Unfortunately, casual shoes — those designed for adventure travel rather than hard-core trail adventures — frequently fail the functionality test. Not all of them, though. A couple of stylish kicks caught the eyes of our test team and passed our strict requirements for comfort and support while running through airports, trotting through tourist sites, strolling up trails and hopping ferries around the San Juans.
Cushe
 offers a number of styles for men and women, and both genders felt the 
Shucoon s
hoe fit their adventure travel needs perfectly, while also fitting within their environmental ethics. Cushe's 
Shucoon Slide
 is a lace-free shoe made largely from green materials. The upper incorporates organic cotton and hemp as well as recycled Lycra and polyester materials. It fits snugly around the foot without being constrictive. Underfoot, the outsole blends recycled rubber and cotton canvas for a tough, durable grip on airport linoleum, dirt trails and ferryboat decks. The versatile Shucoon Slides feature fold-down toe panels and tuck-away heel cups, so they can be worn as a full-coverage shoe or as an open-toed slip-on. The shoes are ideal for casual wear, and light walking while vacationing or just hanging out around town. They sell for $80. Details: 
www.cushe.com
.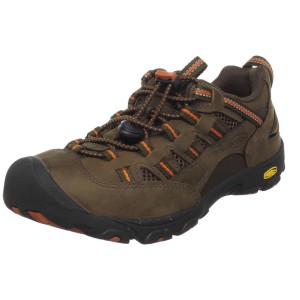 For a more rugged travel shoe, testers found the 
Keen Alamosa
 provides solid hiking performance in a clean, attractive leather and fabric package. The Alamosa sports an aggressive outsole, with solid torsional support in the midsole to protect your feet when rock-hopping. We tested these on a new trail on the flank of Mount Teneriffe near North Bend and found them ideal for rough trails. I also felt comfortable wearing them with a pair of khakis when we met friends for dinner in Issaquah after the hike. The fit of the Alamosa is roomy through the forefoot, but a sculpted heel cup keeps the back of your foot secure and in place while hiking. They're available in men's and women's sizes, and testers of both genders praised these as a great "all-day, everyday" style shoe for active lifestyles. They retail for $100-$110. See
www.keenfootwear.com
.