Buy less, use more! Outdoor Gear shouldn't be disposable
Buy less, use more! Outdoor Gear shouldn't be disposable
We all have too much shit!
With two or three perfectly functional rain jackets in the closet, we go out and buy the latest and great. When the newest fly fish rod comes out, promising to improve your cast by 10 yards, and your accuracy by 10 percent, we go buy it. If a new stove promises to be 0.3 ounces lighter than our current stove while cutting our boil time by 30 seconds, we gotta have it. With resources becoming ever more scarce, and our economy on the rocks, rampant consumerism is a problem. We buy too damned much stuff we don't need and don't use the stuff we have for its complete lifespan. I'm sorry to say that, at least in the outdoor market, I'm a big part of the problem. For the last 20 years, I've reviewed the latest and greatest outdoor products and through a variety of publications, encouraged you to buy them all. I do believe I offer a valuable service in providing honest reviews based on substantial field testing. But I also have come to accept the fact I need to be talking about durability and longevity of products, too. A Polartec softshell jacket can last for years – decades even, depending on the type of use – and the gear maker's should be touting that fact. Same with Gore-Tex, Schoeller and Primaloft products. But even more importantly, I should be touting that fact – and so should all my colleagues. I know I'm not alone in this belief. Earlier this year I enjoy an evening out with
Todd
and
Shannon Walton
and this topic was one of many we discussed. They've both been leaders in the PR side of the Outdoor Industry and they both expressed strong interest in encouraging "durability marketing." I've also discussed this with folks from other PR agencies, from manufacturers and from retailers. While these businesses need new retail sales to stay afloat, they all realize there is an environmental and moral imperative to reducing the "throw-away" culture we currently have in place. With all this percolating through my mind for the past several months, I was pleasantly shocked to see a unique ad in New York Times on Black Friday – the most rampant day of consumerism in America. Patagonia ran a prominent ad in the NYT today, telling consumers,
"Don't Buy this Jacket."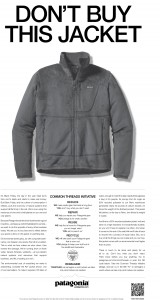 Their ad content speaks for itself
:
"Black Friday, and the culture of consumption it reflects, puts the economy of natural systems that support all life firmly in the red. We're now using the resources of one-and-a-half planets on our one and only planet.
Because Patagonia wants to be in business for a good long time – and leave a world inhabitable for our kids – we want to do the opposite of every other business today. We ask you to buy less and to reflect before you spend a dime on this jacket or anything else."
For most businesses, running an ad of this kind would result in immediate firings within the ad department. For Patagonia, it's just a continuation of an on-going program of reducing waste and overconsumption. The Patagonia Common Threads Initiative encourages Patagonia customers to repair, re-use and eventually recycle their products before buying something new. They offer incentives, aid, and lots of educational material to make this happen.
See details here.
Other companies are doing similar things on a smaller scale, and I want to step up and promise to do my part, too. So while I will continue to review and recommend new products, I will also offer information on how to make your existing products last longer. I'll present stories on restoring old gear to like-new condition. I'll provide information on where you can recycle – rather than just throw away –truly worn out gear. And I'll try to focus my recommendations of new gear on products that will last for years, decades or even generations.
Adventures NW
The recent news that the Seattle Times has slashed its outdoor section budget and eliminated my column initially came as a blow to me. But now I see it as an opportunity. I've allowed my blog to be stagnant. No more. Adventures Northwest will be a voice for responsible consumerism. We will follow Patagonia's lead and encourage careful choices for outdoors enthusiasts. I will review gear that works, but will also – when appropriate – pull no punches when describing gear that fails to meet our standards. We all have too much shit. It's time glean the wheat from the chafe. It's time to get rid of the shit and stick with only the quality gear that will keep us warm, dry, safe and happy.