Wader Reviews: Stay dry while getting wet!
Wader Reviews: Stay dry while getting wet!
The pursuit of cold-water fish means anglers must enter the frigid waters that those trout and salmon species call home.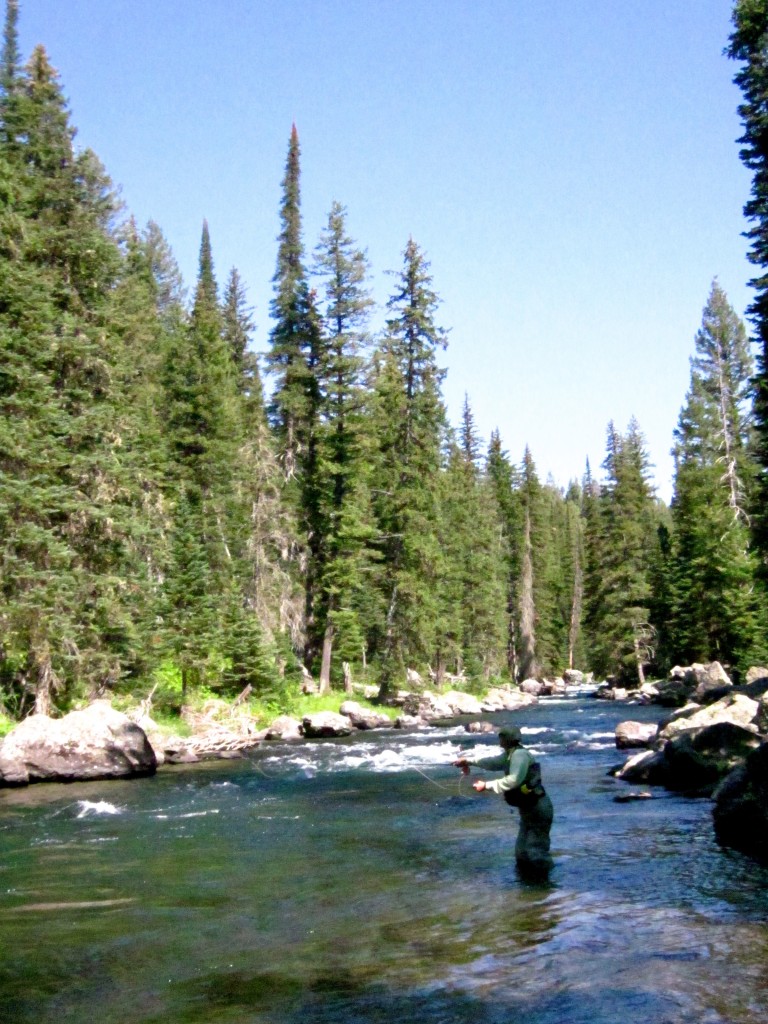 Staying dry while walking through those icy rivers requires proper protection, and that generally means waders. To the relief of virtually everyone, the days of snug-fitting neoprene "sausage casings" are quickly fading away. Today, wader makers utilize waterproof/breathable materials in their products.
Best Durability
Simms G4Z Stockingfoot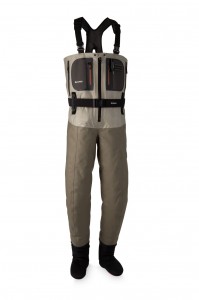 Simms designed the
G4Z
for anglers who plan to practically live in their waders. With 5-layer Gore-Tex Pro Shell in the high-abrasion areas (knees, seat, thighs, etc.) and 3-layer Pro Shell everywhere else, these waterproof-breathable waders can take a beating without leaking. We've pushed them through slide alder and blackberry brambles on the upper Cowlitz and busted through ice and slide down gravel slopes along the Yakima. Nary a leak. But when YOU need to take a leak, these waders can't be beat. The zippered bib and quick-release suspenders make it easy to get down to business. That front zipper is waterproof – we had a couple occasions of wading deep enough to get the bottom of the zipper submerged, and a lot more opportunities to get it soaked by splashing fish and fast rivers. Not a drop seeped in through the sealed teeth of the zipper. A pair of 'Napoleon' pockets fit along side the bib zipper – made from Schoeller softshell material heat-welded to the bibs, these provide enough stretch to accept a camera or other bulky item without being loose and floppy when empty. They are also water-resistant and secure (zipper-closure). The 100-percent made in America (Bozeman, MT) Simms G4Z waders fit comfortably, with a cut a bit looser than 'athletic' but not excessively baggy, either. With 17 possible size combinations (small through 4XL, with three lengths in most sizes), getting a good fit is simply a matter of finding the right combination.  The only real downside we found with the G4Z? The price. At $699, they are the most expensive waders we encountered.
www.simmsfishing.com
Best for Women
Redington Sonic-Pro Zip-front Waders (gender-specific sizes)

The Sonic-Pros utilizes a proprietary waterproof/breathable membrane in a 4-layer durable nylon fabric to provide durable performance. Like the Simms G4Z, these feature a zipper on the bib section to make it easier to get in and out. While the men appreciated that feature, the women LOVED the freedom it provided. Our female testers also loved the women-specific fit on the Sonic-Pros. No sagging baggy butt, no billowing bibs over the waist belt. The Sonic-Pros follow the lines of the women's bodies without being constrictive or excessively loose. The sonic-welded seams withstood plenty of use and abuse with no signs of stress or wear. Women get 8 sizes to choose from, men get 12 (covering SM to 2XL with several tall and 'king' options). The Women's version sells for $350, men's run $380 – a bargain at nearly half the price of the Simms G4Zs. 
www.redington.com
Best Value
See Redington Sonic-Pro Zip Above!
Best for shallow wading
Patagonia Gunnison Gorge Wading Pants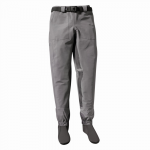 Sometimes, you just don't want a bib! Chest waders meet virtually all our wading needs, but in smaller creeks, they can be overkill.  In small streams that run too cold for wet wading, the new Gunnison Gorge Wading Pants from Patagonia work perfectly. With a cut that looks similar to a loose-fitting pair of jeans, the Gunnison Gorge pants provide protection from that icy water without the hassle of full-height bibs. Patagonia uses their proprietary H2NO waterproof / breathable membrane in a 3-layer fabric in the pants, with a wide elastic waistband and webbing belt to seal out the river. The fit is trim but roomy. For small streams or shallow waters, it's hard to beat the fit and function of the Gunnison Gorge. They sell for $279.
www.patagonia.com