Bank anglers frequently envy the ability of boaters to cover more water during their angling adventures. But they never envy them the hassle of having to trailer and tow those vessels to and from the lakes and rivers.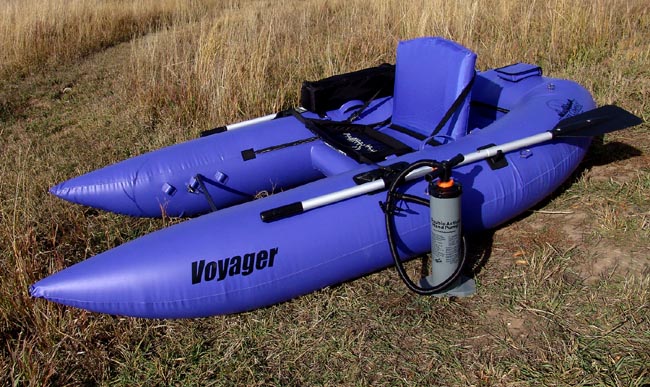 Personal-sized water craft make it possible for those of us who primarily wade-fish to get out on the water ourselves, but the options have typically been to sit in the water via a 'float tube' or have a cumbersome pontoon boat that needs a trailer or large truck.
Enter The Creek Company. This boat builder from Colorado unveiled their new frameless pontoon boat this year. The Voyager packs into a large suitcase-sized case when not in use for ease storage and transport. The complete boat and accessory package weighs just over 28 pounds.
When ready to fish, though, it quickly inflates into an 8-foot pontoon raft that keeps you completely out of the water – though you can use kick-fins to propel it if you want – even on modestly fast rivers.
We tested on the Voyager on several western Washington lakes and I found it very nimble and maneuverable both with the included oars and with the optional kick-fins. It easily supported my 225 pounds along with my 65-pound yellow lab (it's rated to 400 pounds capacity) with no loss in nimbleness.
The Voyager's inflatable seat provides comfortable support for easy cruising, but when used on a day-long stretch of the Yakima River's Lower Canyon, I wished for a bit more rigid structure toward the end of the day. The long stretches of rowing proved a bit tiresome with the always-flexing seatback.
We encountered no durability issues, though we would recommend regular visual inspections between outings, especially when used on faster moving water (we don't recommend using it in anything more than a low class II). The boat features a 30-guage PVC bladder system within a puncture-resistant PVC outer shell.
The boat's best use, we found, was as a lake craft from which we could easily toss dry flies in towards shore or drag nymphs and streamers through the depths. The $600 price tag runs a bit more than some lower-quality belly boats and personal pontoons, but is well below the cost of a full-on whitewater raft.
The Creek Company Voyager seems ideally suited for the avid wading angler who wants to occasionally get afloat for some still-water fishing. Its lightweight portable nature and big cargo capacity make it perfect for out-of-the-way storage and easy transport as well as serious use on the water. Using the included two-way foot pump, we could inflate and rig up the raft in less than 8 minutes.