Sage Circa: A dry fly dream-caster
Sage Circa: A dry fly dream-caster
The era of fast action fly rods really began with Sage some 25 years ago. Now, the company has launched a new era of slower but incredibly accurate rods. The Sage Circa sets a new rhythm for fly casters. Since the mid-1980s, the Bainbridge Island company has moved the world for fly fishing progressively forward toward faster line speeds and stiffer graphite rods. Sage's current premiere rod, The One, is arguable the fastest, farthest-casting rod available. It is also remarkably accurate, lightweight and comfortable to cast.  (Full review 
here
).  Clearly, Sage has perfected the fast action design. The new Sage Circa, though, proves they also know how to dance to a different rhythm. 

Unlike that bamboo – and definitely unlike any other graphite or fiberglass slow-action rod I've fished with – the Circa also provides incredible casting power and – most notably – accuracy. Using the 8-foot 9-inch, 5-weight version of the rod, I found I could push 50 feet of line without too much effort. And the Circa's use of the same 'Konnetic' composite technology as is used in the One series means the lateral 'vibration' of the rod is minimized to the point of being eliminated. In short, the casting stroke moves the line exactly where you want it without the side-to-side motion that can spoil accuracy. Best of all, though, this slow action rod presents small dry flies with barely a ripple on the water. The flies drop so gently, I sometimes had trouble following the presentation of the smallest of the midges we cast during testing.  For dry fly work on short to mid-distance casts, I found myself loving this rod. I fact, I much preferred it in those situations to my Sage One or Orvis Helios 2 (another fantastic fast-action rod –
see here
).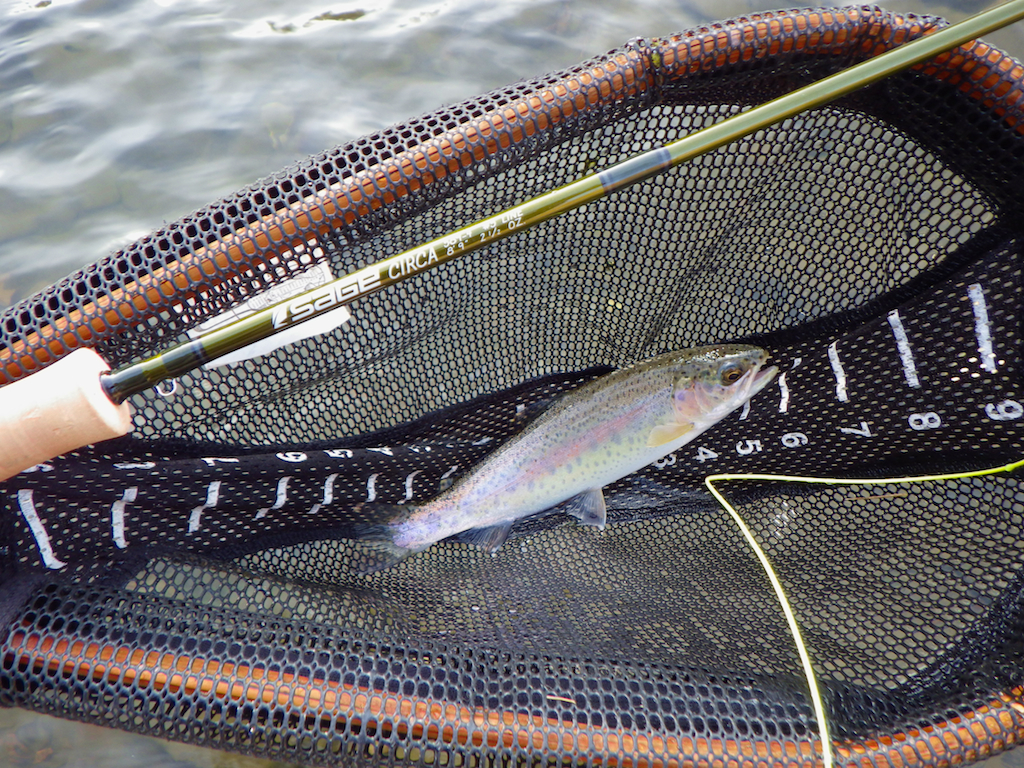 The Circa didn't fair as well in my tests when slinging nymphs, especially weighted nymph combos (I was mostly using a San Juan worm – prince-nymph rig under a bubble indicator). It also gave me a little pause when trying to cast big dry-dropper combos. I found the heavier multiple point presentations were a bit sloppier. I caught fish but by partner convincingly out-fished me with her old Z-Axis set-up (of course, she frequently out-fishes me, but my presentation definitely wasn't up to par in this situation). But with a single dry, whether it was #8 stone or a #20 midge, the Circa proved ideal. Truly, a rod in a class of its own. Physically, the Circa also stands apart from any other rod on the market. The rod blank is slim – at the grip, the 5-weight rod blank is about the size upper third of a standard fast action graphite rod. Colored a deep moss green (nearly identical to the color of Sage's just-retired Z-Axis rods), with a half-wells grip and Vera wood reel seat, the Circa looks crisp and clean rather than flashy – just what you'd expect from a rod with such a precise, deliberate casting action. Sage offers the Circa in 2-weight through 5-weight in 7-foot-9-inch and 8-foot-9-inch lengths. Prices range from $745 to $775.
www.sageflyfish.com