Best of 2012: Personal Watercraft Section
Best of 2012: Personal Watercraft Section
Looking back at the best products of 2012, we realized we needed to make sure they all got the attention they deserve. So we're breaking up the "Best Of" story into a series of stories. Today, we explore the Best Personal Watercraft of 2012 for active outdoors enthusiasts.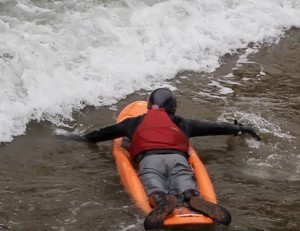 Bellyak Frequency – The Full-Body Boat
Whitewater kayaking requires a synchronized dance of hip-shifts, shoulder rolls and arm strokes. It takes years to perfect the dance. But there is an easier way to get into the river. "The intuitive nature of riding our boats makes for a very quick learning curve," said Adam Masters, creator of the Bellyak boat. "I've taken people with little or no experience down rivers that would've taken weeks of instruction for them to experience in a kayak. "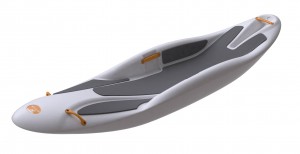 The Bellyak Frequency, a lay-on-top kayak. Imagine riding a sled down a snowy slope – riding the Bellyak is similar. Lay in the recessed body channel and us your hands as paddles and stabilizers as you lean the boat through turns. Stable and secure in modest white water, the molded plastic and fiberglass Bellyak offers a shorter learning curve than traditional kayaks. Plus, said Masters, "being face level with the water gives the user the feeling of flying." $749.
www.bellyak.com
Creek Company Voyager: A boat for all seasons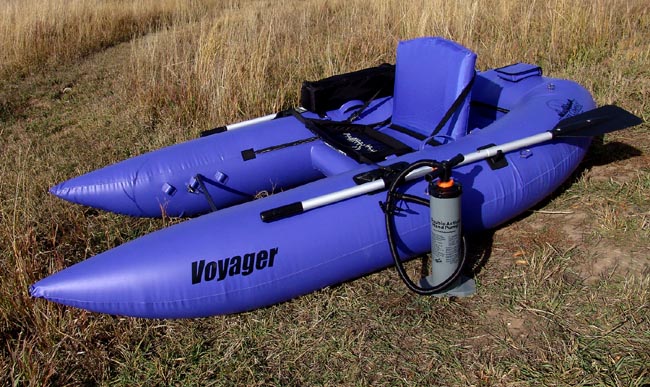 Personal-sized water craft make it possible for those of us who primarily wade-fish to get out on the water, and The Creek Company just made that option easier. Their new frameless pontoon boat, the Voyager, quickly inflates into an 8-foot pontoon raft that keeps you completely out of the water – though you can use kick-fins to propel it if you want – even on modestly fast rivers. When not in use, it packs into a large suitcase-sized case for ease storage and transport. The complete boat and accessory package weighs just over 28 pounds. We tested on the Voyager on several western Washington lakes and I found it very nimble and maneuverable both with the included oars and with the option kick-fins. It easily supported by 225 pounds along with my 65-pound yellow lab (it's rated to 400 pounds capacity) with no loss in nimbleness. The Voyager's inflatable seat provides comfortable support for easy cruising, but when used on a day-long stretch of the Yakima River's Lower Canyon, I wished for a bit more rigid structure toward the end of the day. The long stretches of rowing proved a bit tiresome with the always-flexing seatback. The Creek Company Voyager seems ideally suited for the avid wading angler who wants to occasional get afloat for some still-water fishing. Its lightweight portable nature and big cargo capacity make it perfect for both out-of-the-way storage and fast and easy transport. Using the included two-way foot pump, we could inflate and rig up the raft in less than 8 minutes. $599.
www.creekcompany.com