The idea seems so simple: If you are going through the trouble and expense to generate heat for one purpose, but end up with more than you need, use that excess for something else. Namely, electricity.
Simple in concept, but more difficult to implement – until now. The idea of "Combined Heat and Power" (CHP) generation has taken off at all levels these days.
In my role as the communications manager for a clean air agency, I've watched several wood-and paper-products facilities work to convert their old wood-fired boilers – used historically to provide the necessary heat in their industrial processes – into CHP operation. The excess steam from their boilers now powers turbines and generates electricity. Some of that will be used onsite to reduce production costs and the extra will be sold off to utility companies, helping meet societal needs for electrical power at minimal cost.
This trend toward full-use of produced heat/steam has swept the nation. The State and Local Energy Efficiency Action Network (SEE Action) reports that 4,100 facilities nationwide generate more than 82 gigawatts (GW) of electricity through the CHP process. Previously, the energy used to generate that electricity was simply lost through wasted heat production. The total electricity generation could rise by another 130 GW if other existing facilities converted to CHP processes.
So industrial sources big and small are finally learning to fully utilize the 'energy' in their facilities. The result is power where previously there was just waste.
In my role as an outdoor journalist, I've experienced the same occurrence in backcountry camps.
Last year, BioLite  offered backcountry campers a way to cook their meals while simultaneously powering and recharging their electronic devices. The BioLite Campstove burns wood scraps – twigs, branches, bark, etc. – to heat your cookset, while also powering a thermoelectric generator to create electricity to charge an internal battery. A USB port than dumps the charge into your electronic gear.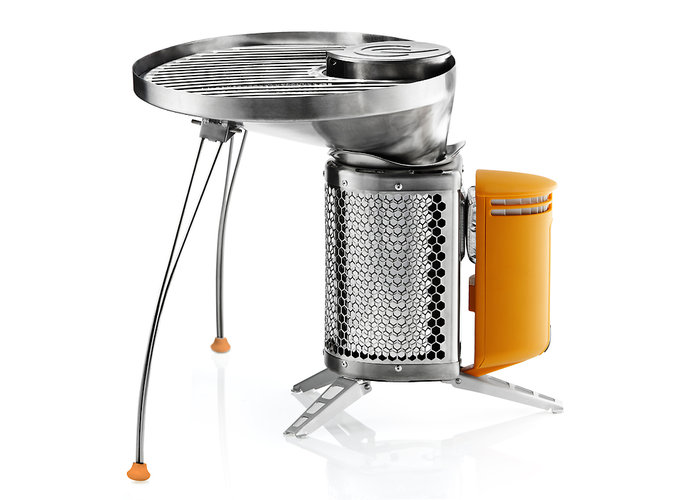 The system works remarkably well. A small portion of the generated electricity powers a small fan that acts as a bellows to pump oxygen into the fire for maximum efficiency in the combustion. That creates a hot cook surface that boils a liter of water in less than 4 minutes (using very dry fir and pine wood – plan on longer boil times if using scraps like twigs, bark and wet wood).
That high-heat also helped re-animated a dead-battery iPod in less than 10 minutes and had the battery recharged enough to play for a few more hours after just a half-hour of charge. We've also used the BioLite to recharge camera batteries, GPS receivers and iPhones.
And though we've yet to use it, BioLite designers recently unveiled a new accessory: An add-on grill surface. So now you can grill burgers and hotdogs, while powering your MP3s.
The BioLite sells for $129. www.biolitestove.com