Waka Waka: Portable Power for your Digital Tools
Waka Waka: Portable Power for your Digital Tools
Digital devices have moved beyond our city limits and have infiltrated the backcountry. Digital cameras, GPS receivers, smart phones, eBook readers and even powerful headlights draw power from rechargeable batteries.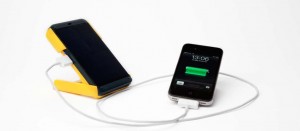 The WakaWaka POWER unit offers one of the best options when those batteries need recharging in the backcountry. The WakaWaka POWER pack includes a battery, LED lights and multiple charging options: a solar panel, a USB port and an A/C port. The solar panel proved incredibly efficient, charging the internal battery in mere hours, which in turn provided a full charge to a fully depleted iPhone 5 battery in just 98 minutes. But one of the coolest features of the WakaWaka (which means "shine bright" in Swahili) is the one you can't see: the power it provides to impoverished populations. For every WakaWaka charger sold,
WakaWaka donates $10
to finance entrepreneurial education, micro-loans to women energy entrepreneurs, and subsidies for the very poor in countries like in Nigeria, Haiti, Nepal, India and Latin America to replace polluting, dangerous kerosene lamps. These initiatives increase safety for girls and women at night, help students complete their homework after dark, and much more.
www.wakawaka4light.com